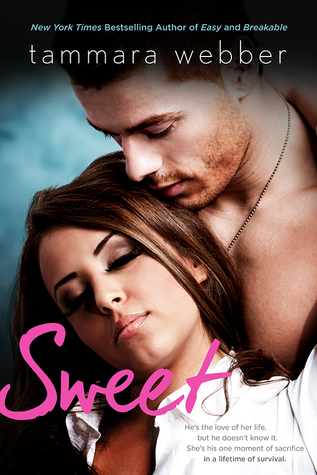 Summary-
He's the love of her life, but he doesn't know it.
She's his one moment of sacrifice in a lifetime of survival.

He was damaged and wild, but resilient.
She's always been obedient. Now she's restless.

Home for the summer between college and med school, Pearl Torres Frank knows two things: Boyce Wynn is the embodiment of everything she should run from, and everything she wants to run to. Rebellious and loud. Unconcerned with society's opinion of him. Passionate. Strong. Dangerous.

And one more trait he hides from everyone but her:
Sweet.
Review-
I had read Easy by Tammara Webber a long time back and enjoyed it. But then I was really not interested in reading Breakable so I decided to skip it. Then came Sweet and I was curious to see Boyce and Pearl's story. I am happy to say that I liked Sweet. It can be read as a standalone and I would recommend it to anyone who enjoys reading new adult.
Pearl is the good girl. She is far too intelligent for her own good and that is why people expect her to go to medical school. But her heart isn't in it and she decides to return home to study marine biology. That is when things change for her. I really liked Pearl as a heroine. She was so sweet and shy and it was time she stood up for herself and what she wanted. I loved her even more with Boyce.
Boyce is the boy from the wrong side of the tracks. He had to deal with his older brother dying in war to his mother leaving when he was a kid to dealing with his drunk father. But now he finally has the freedon to live for himself. The only thing he wants more than anything is Pearl even though he knows he doesn't deserve her. I really liked Boyce too. He was a great guy who deserved so much more in life.
Boyce and Pearl were opposites in so many ways but they were perfect for each other. They have known each other since they were kids and they have always shared an intense connection. Pearl and Boyce never gave a name to their relationship but it was easy to see that they were head over heels in love with each other. I loved how they both found their way to each other.
We do get glimpses of Landon and Jacqueline in Sweet. The romance Boyce and Pearl shared was truly sweet and genuine. Sweet was a light and romantic read, one which I genuinely enjoyed reading. It was about figuring yourself out and dealing with life as it comes. Sweet was a good read.