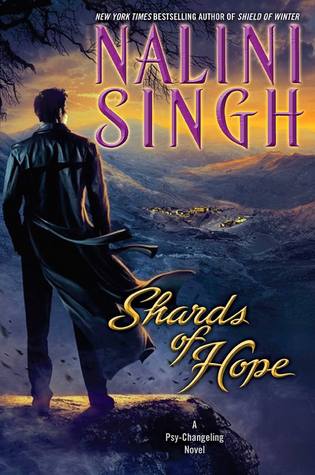 Summary-
Awakening wounded in a darkened cell, their psychic abilities blocked, Aden and Zaira know they must escape. But when the lethal soldiers break free from their mysterious prison, they find themselves in a harsh, inhospitable landscape far from civilization. Their only hope for survival is to make it to the hidden home of a predatory changeling pack that doesn't welcome outsiders.
And they must survive. A shadowy enemy has put a target on the back of the Arrow squad, an enemy that cannot be permitted to succeed in its deadly campaign. Aden will cross any line to keep his people safe for this new future, where even an assassin might have hope of a life beyond blood and death and pain. Zaira has no such hope. She knows she's too damaged to return from the abyss. Her driving goal is to protect Aden, protect the only person who has ever come back for her no matter what.
This time, even Aden's passionate determination may not be enough—because the emotionless chill of Silence existed for a reason. For the violent, and the insane, and the irreparably broken…like Zaira.
Review-
I am a HUGE fan of Nalini Singh's Psy-Changeling series. Shards of Hope is the fourteenth book in the series and it shows no signs of stopping. I would highly recommend getting to this series from the first book because there is so much world building and so many threads and a lot of character growth throughout the series. It is no surprise that I thoroughly enjoyed Shards of Hope.
Shards of Hope is about a psy-psy couple. Let's start off with Aden. Aden is a nice guy and that is the simplest way to describe him. He is the leader of the Arrow squad and he cares for his people and is willing to do anything for them. The only place where he is a tiny bit selfish is Zaira. I loved Aden. He was an amazing guy who didn't let many people see his power. I loved the way he was with Zaira and all the other Arrow kids.
Then we have Zaira. Zaira herself, is a member of the Arrow squad and she is fiercely protective of her friendship with Aden. Even though Zaira loves Aden she thinks that she is too damaged inside to actually share a relationship with him. Zaira was unlike any other heroines in this series. She was hard core and ruthless and I loved that about her. The possessiveness and protectiveness she felt for Aden was what made them perfect for each other.
The main focus was not the romance in Shards of Hope but what romance we get was amazing and sweet and real. Aden is determined to be with Zaira, come what may. I cannot even begin to tell how many other things are going on in this book. There are several sub plot lines and we get to meet a ton of new characters. Many story threads from before get tied up while opening up new ones.
I am especially curious about the sea changelings and Remi's pack. I do hope we get a book for everyone in the future. While Shards of Hope concludes a part of the story arc it also opens up a new one. I am highly curious to see how Nalini will take forward the series because it is obvious she knows what she is doing. With excellent writing and characters Shards of Hope was an amazing read.