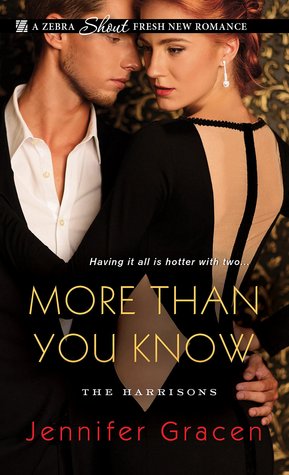 Summary-
Hotel owner Dane Harrison, middle brother of a wealthy Long Island family, needs a lounge singer for his new luxury property. With her stunning voice and amazing curves, Julia Shay is perfect. She also seems be the only woman in New York City who isn't falling at Dane's feet. And despite her feisty attitude and his rule against workplace affairs, he wants her—in his arms, in his bed, anywhere and everywhere.
Julia loves her new job, and she knows better than to think she can keep it
and
Dane. Even if he wasn't her boss, Julia's painful history has given her ample reason to steer clear of rich, powerful charmers. Still, their chemistry is unlike anything she's known, and when it becomes too much to resist, they agree to one no-strings night together. But instead of quenching the fire, the intense encounter only proves how much they have to lose—or win…
Review-
More Than You Know by Jennifer Gracen

caught my eye because of the beautiful cover and the summary. I was curious to see how the story went and I am always up for a romance. While I did like More Than You Know, I enjoyed some parts more than the others. While I was not mind blown by More Than You Know, it was still an all right read.
Let's start with Dane. Dane Harrison is the owner of multiple hotels and a self made millionaire, though he comes from old money. With the opening of his new hotel he is searching for the perfect lounge singer. This is where he finds Julia. I really liked Dane. Though he was infamous for his playboy attitude we never once got to actually see him in action. He is genuinely smitten by Julia and I liked that his intentions towards her were always pure.
Julia has been through a lot in life. I was happy to read about a heroine who is in her forties. This is an older female younger man romance and I liked that. What I didn't like was Julia as a person. Yes, I understood that she had been through a lot and that life was difficult but sometimes her actions were that of a girl than a woman. Julia irritated me at times and that is the only flaw in the book.
I liked how the romance went between Julia and Dane. Both of them had loads of chemistry and they weren't afraid to act on it. I didn't like the way Julia treated Dane at times even though he hadn't given her any reason to doubt him. Julia and Dane were definitely intense together.
I also really liked all the side characters. We get to meet Dane's siblings and I hope we get stories for each one of them because they deserve it. I also really liked Julia's friends who were nothing but a solid support system for her. All in all, More Than You Know was a good read but I feel that it could have been better.
*Note: A copy of this book was provided by the publishers through Netgalley in exchange for an honest review. We thank them.