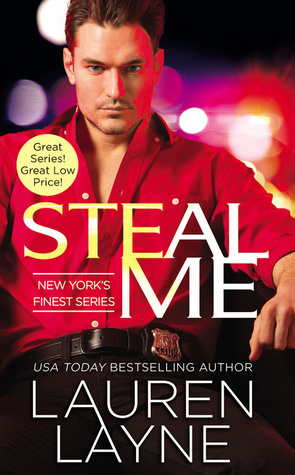 Summary-
IN HOT PURSUIT
Being a cop might be in Anthony Moretti's blood, but protecting and serving the city of New York has always been more than just the family business. If that means his love life stays locked up, well then that's just another sacrifice made in the line of duty. That is, until he sets eyes on the gorgeous new waitress at The Darby Diner and suddenly Anthony's morning coffee is leaving him a whole lot more hot and bothered than usual.
Though waitressing at The Darby isn't exactly Maggie Walker's dream job, it pays the bills and gives her time to work on her novel. Now if only she could stop fantasizing about gorgeous Anthony Moretti every time he sits down at her table, she'd really be in great shape. But when he needs her help identifying a criminal threatening The Darby—and Maggie recognizes her ex-husband—she fears her fresh start might be a pipe dream. Faster than a New York minute, Maggie and Anthony find themselves in one perilous pursuit that only gets hotter with each and every rule-breaking kiss.
Review-
While I had liked Frisk Me I hadn't loved it. I wasn't sure I was going to love Steal Me as well but Lauren Layne completely reeled me in with this book. I didn't expect to like both Anthony and Maggie as much as I did and I think that is what mad me love the entire book even more.
Let's start with Anthony. Anthony Moretti is the oldest son and he's recently become a Captain. Coming from a cop family he's always had his professional goals very clear in his head. He's a firm believer that a cop can't be a good cop and a good boyfriend. But he starts questioning all this when he meets Maggie. I loved Anthony. He was so protective of his entire family. He wanted to help Maggie out but he couldn't give her everything she deserved.
Then we have Maggie. Maggie was a sweet heart. She's had a hard childhood. Her alcoholic father and younger brother still mooch off money from her even when she can barely get by herself. Maggie's ex was an asshole and now all Maggie wants to do is work hard on her dream of becoming a published author. I loved Maggie. She had a genuinely good heart and was perfect for Anth.
Anthony and Maggie shared amazing chemistry. I loved how open and forgiving Maggie was. Anthony tries hard to keep his emotions away from all things Maggie but he can't help himself. All he wants to do is protect her from the world and give her everything she wants. I really enjoyed how Maggie and Anth's story went. They deserved each other.
I also loved seeing all the Morettis. Nonna was hilarious and I especially love the relationship all the siblings share. I am so curious to see what is brewing between Vincent and Jill. I can't wait for their story. If you love your romance with a bit of action and a big Italian family, Steal Me is the read for you.
*Note: A copy of this book was provided by the authors/publishers through Netgalley in exchange for an honest review. We thank them.