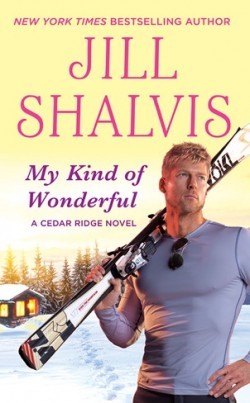 Summary-
UNEXPECTED AND UNDENIABLE...
Bailey Moore has an agenda: skiing in the Rockies, exploring castles in Europe, ballroom dancing in Argentina. Now that she has a second lease on life, she's determined not to miss a thing. What she doesn't realize is that item #1 comes with a six-foot-one ski god hot enough to melt a polar ice cap. She doesn't want to miss out on him either, but Hudson Kincaid isn't the type of guy to love and let go. And as gorgeous as Cedar Ridge is, she's not planning to stick around.
As head of ski patrol at his family's resort, Hud thinks he's seen it all. But never has he run into someone like Bailey. She might look delicate, but her attitude is all firecracker. And her infectious joy touches something deep within him that he's been missing far too long. Now he'll just have to convince Bailey to take a chance on her biggest adventure yet . . . something rare and all kinds of wonderful.
Review-
My Kind of Wonderful is the second book in Jill Shalvis' Cedar Ridge series. After reading the first book in the series I was not entirely convinced that I would love this series as much as I did her Lucky Harbor series but My Kind of Wonderful has proved me wrong. I LOVED this book. It had everything I could ask for in a romance and it left me with a happy feeling.
Let's start with Bailey. Bailey is our heroine. After suffering since she was a teenager she is now in recovery. All Bailey wants to do is live her life to the fullest. Something she wasn't able to do before. So she has a list and she wants to do everything on it. I LOVED Bailey. She was a sweetheart and such a strong person. Her life had not been easy but she was determined to be happy. Things become interesting when Bailey agrees to paint a mural at Cedar Ridge.
Hudson is our hero. He is overworked and tired but that is the only way he knows how to live. Hud has had a difficult past and especially since his twin left town he has been feeling lonely and incomplete. I loved Hudson. He was such a good man. Protective and fierce, all he wanted was to take care of his loved ones. When Bailey comes into town she brings the laughter and light that is missing in his life.
I loved Bailey and Hud's romance. It was sweet and easy and they gave each other something that the other needed but didn't even know it. I admired Hud because he never saw Bailey as a patient but as a full grown woman. Bailey tries hard to do things and enjoy life to the fullest. It was just amazing to see them together.
I also have become quite fond of the entire Kincaid clan. The siblings are evil and hilarious at the same time. I liked seeing how the previous couple was doing and I'm especially excited to read Jacob's book which is next. I loved My Kind of Wonderful and highly recommend it.
*Note: A copy of this book was provided by the publishers through Netgalley in exchange for an honest review. We thank them.
Start from the beginning with book one in the Cedar Ridge series, SECOND CHANCE SUMMER!
RESCUE MECedar Ridge, Colorado, is famous for crisp mountain air, clear blue skies, and pine-scented breezes. And it's the last place Lily Danville wants to be. But she needs a job, and there's an opening at the hottest resort in her hometown. What has her concerned is the other hot property in Cedar Ridge: Aidan Kincaid—firefighter, rescue worker, and heartbreaker. She never could resist that devastating smile . . .

The Kincaid brothers are as rough and rugged as the Rocky Mountains they call home. Aidan has always done things his own way, by his own rules. And never has he regretted anything more than letting Lily walk out of his life ten years ago. If anyone has ever been in need of rescuing, she has. What she needs more than anything are long hikes, slow dances, and sizzling kisses. But that can only happen if he can get her to give Cedar Ridge-and this bad boy-a second chance . . .
New York Times bestselling author Jill Shalvis lives in a small town in the Sierras full of quirky characters. Any resemblance to the quirky characters in her books is mostly coincidental. Look for Jill's bestselling, award-winning books wherever romances are sold and visit her website for a complete book list and daily blog detailing her city-girl-living-in-the-mountains adventures.
Giveaway!