Summary-
Some men are just better when they're bold.
In a dark and broken kingdom, a ruler has to be fearless to control the streets and the ruthless people who run them.
Race Hartman is just bold enough, just smart enough, and just lost enough to wear the crown. Places like the Point will always have bad things and bad people, but the man in control of all that badness can minimize the devastation. Race has a plan, but can he prevent total annihilation without destroying himself?
Brysen Carter has always seen her best friend's brother for what he is--too pretty, too smooth, and way too dangerous to touch. Basking in Race's golden glow is very tempting, but Brysen knows she'd eventually get burned.
When she starts receiving threatening texts and someone tries to take her out in parking lot, the only person interested in keeping her safe is the one man she can't allow herself to have.
Sometimes being bold is the only way to stay alive. But can she let Race save her life . . . if it means losing herself to him?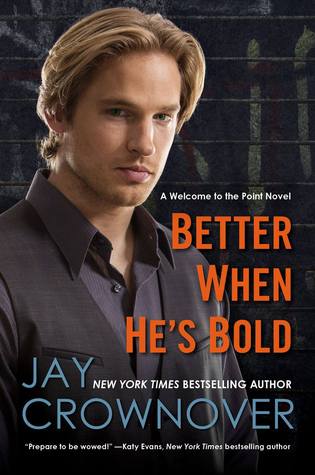 Release date: February 3rd, 2015
Published by: William Morrow & Company
Page numbers: 400
Review-
Better When He's Bold is the second book in Jay Crownover's Welcome to the Point series. I had liked the first book enough to pick up the next one right away. This is Race's and Brysen's story both of whom we'd met in the previous book. I liked
Better When He's Bold
but I do think it could have been better. It was an okay read.
After the events which take place in the last book the Point is left with no person to kind of rule over it. This is when Race decided to take over with the help of Nassir and Bax. Race has been a rich guy until his messed up family made him decide to come to the Point and live the hard life. I found Race to be okay. There was nothing special about him for me. Everyone around him kept saying what a genius he was but I just couldn't see it.
Then we have Brysen. Brysen and her family fall right in the middle of the pack. They are not rich enough to be a part of the Hill but not poor enough to be a part of the Point. I really liked Brysen. She was a hard worker trying to keep things as normal as possible for her sister Karsen, while handling a drunk mother and a father who is a gambler. I liked Brysen's determination and her strength.
The best part about Brysen and Race's story was that even though their conversations were slightly prickly in the beginning they never denied being attracted to each other. There was no hiding their chemistry and they very easily accepted each other for who they were. I liked how Race wanted to take care of Brysen and her sister when things got tough. Brysen was the grounding point in Race's life.
The reason I felt this book was lacking as compared to the last one was that the suspense about Brysen's stalker was very weak. I guessed the stalker right at the beginning because he was very easy to spot and I couldn't understand how the apparently most intelligent hero didn't get it. But aside that Better When He's Bold was a good addition to the series.