Summary-
Eleven months ago, bartender and weird-shirt-wearing extraordinaire Roxy and Officer Reece Anders had a one night stand. Well, kind of. She's been in love with him since she was fifteen, and he wishes that night they shared never happened. She's sworn him off forever, but the past and future collide, forcing her to rely on the one man who broke her heart not once, but twice.
Her best friend since birth has been in a long-term care facility since he became a victim of a hate crime years ago, and the person who put him in there is out of prison and wanting to make amends with him and Roxy. She's not sure she has room for forgiveness in her and when she begins to receive frightening messages and is on the receiving end of escalating violence, she thinks she knows who is to blame. The man who already destroyed one life already.
But Reece isn't convinced. The threats are too personal, and even if Roxy doesn't believe him, he's not willing to let anyone hurt her. Including himself. He's already messed up more than once when it comes to Roxy and he's not going to let history repeat itself.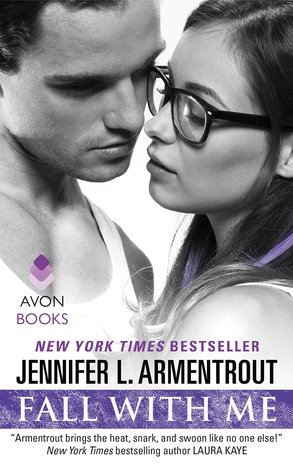 Release date: March 31st, 2015
Published by: Avon
Page numbers: 389
Review-
I have been religiously following J.Lynn's Wait For You series since the first book came out.
Fall With Me
is the fourth book in the series and it is Roxy and Reece's story. I was really excited to get to Roxy and Reece's book because we could feel the tension between them since the last book itself. While Fall With Me was not as good as Wait For You, it was still a good read.
Roxy is our heroine. I loved her quirkiness. She was the perfect combination of nerd and cute and I loved how she wore t-shirts with weird sayings on them. Roxy has been in love with Reece since a long time. But things are awkward and complicated between them now more than ever. But someone is stalking Roxy and Reece will do anything to protect her.
The one thing I found stupid about Roxy was how she blew off things when she felt something was not right. There is a stalker on the prowl so obviously you should be more alert girl! Reece was very swoony like all J.Lynn heroes. I so wish we had gotten his point of view to know exactly how he felt about Roxy but unfortunately we don't. Reece is dealing with issues of his own as well.
I loved the chemistry Reece and Roxy shared. They were so very attracted to each other and the tension between them was for everyone to see. Roxy was very hot tempered but her heart was always in the right place. Reece was actually the steady and calm one and just what Roxy needed in her life.
I also enjoyed that we got to see how some of the couples from the previous books were doing. I adored Roxy's over protective family and how they were always there for her. Like all J.Lynn books this one was lengthy for a new adult romance. I liked the little bit of suspense we got with the romance. All in all Fall With Me was a good read.