Hi, guys! You have no idea how excited I am to finally help two of my most favourite New Adult writers for one of my most favourite New Adult series- Krista and Becca Ritchie for their latest, Long Way Down, book #4 of Calloway Sisters and book #3.2 of Addicted series.
Before I start rambling too much about my love for Raisy and my extreme love for Ryke and end up eating this post, let's just get on to what's in store for you. Also, for more information about the tour, especially to see what everyone else has going on (which you do not want to miss), go here.
Authors:
Krista & Becca Ritchie
Series:
Calloway Sisters #4
Pub Date:
November 20th, 2015
You know what means, right? Happy Release Day to Long Way Down! I'm so happy I get to feature the book on our blog on it's release day.
*throws confetti* *hugs Raisy* Okay, okay. *hugs Ryke* *never lets go*
Amazon:
Purchase links not available until November 20th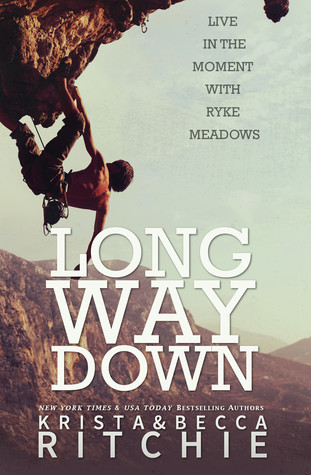 With a seven-year age difference, Ryke & Daisy have faced an uphill battle in the eyes of the world and their families. Known as the most adventurous, fast-paced couple — their next step has always been elusive to the rabid media.
Behind the scenes, heartbreaking troubles continue to test Ryke & Daisy's resilience and shape their future together.
To never compromise who they are.
To never abandon their love for each other.
But preserving their happiness also means adding more risks. Ones that Connor Cobalt wouldn't even take. As a professional free-solo climber, Ryke is no stranger to risk, but his next step with Daisy wagers more than just his health.
With their lives on the line, Ryke & Daisy head towards the vast, wild unknown in this epic final conclusion to the Addicted series.
Krista & Becca Ritchie are New York Times and USA Today bestselling authors and identical twins—one a science nerd, the other a comic book geek—but with their shared passion for writing, they combined their mental powers as kids and have never stopped telling stories. Now in their early twenties, they write about other twenty-somethings navigating through life, college, and romance. They love superheroes, flawed characters, and soul mate love.
THE MOST AWAITED GUEST POST:
RYKE & DAISY'S TOP TEN TV SHOWS THEY MARATHON TOGETHER
On rainy days, Ryke & Daisy enjoy snuggling on their bed and marathoning television shows. Sometimes they'll flip through channels and pick a show—other times they'll watch them on Netflix. Whatever the case, these are their Top Ten Favorites to binge-watch together!
#10 XENA: WARRIOR PRINCESS
Ryke loves action-packed, adventure shows, and Xena fits everything that captures his attention for long periods of time. Daisy loves strong female heroines with super best girl friends like Gabrielle is to Xena. Badass women fighting evil—Daisy is game.

Daisy spaces out a lot at all the in-depth history parts, but when the Viking women and men come on screen—with their lovely braids and brute strength and spirituality—Daisy is zoned in. Ryke listens to the plot a little more than Daisy, but he loves her commentary about braids and fur.
They spend almost the entire time talking about which one of them would compete which challenge and if they'd be good at the detours and road blocks.
Daisy spaces out a lot during Chicago Fire—unless they're fighting the fires or saving people from wrecked cars and drainage ditches. Ryke actually likes the relationship dynamics, and he'll catch up Daisy on sub-plots.
Daisy loves the scenery and the accents and the hot Scottish men. Ryke watches Daisy get into the show more than the actual show. Lots of Raisy flirting happens during Outlander marathons.
ZOMBIES. WANDERING IN THE WOODS! Enough said.
One of their favorite shows they've ever watched together. Daisy had no idea what was going on half the time, but she loved every second. Ryke even rewound scenes, just to piece things together. He was that invested.
Ryke's second favorite show. He will watch reruns when it airs. Daisy loves how much he loves these old mountain men.
#2 ULTIMATE SURVIVAL ALASKA
Ryke's #1 favorite show. Daisy loves it because it's also an adventure competition, so they both like to guess who'll win each race.
Daisy's favorite show! Ryke will watch this with her almost every time they turn on the television. They've seen episodes multiple times, and sometimes, if it helps Daisy fall asleep, he'll turn on the television and have Naked and Afraid playing in the background. True love.
GIVEAWAY
5 - $20 Amazon Gift Cards
3 - Signed Paperbacks of LONG WAY DOWN
Both giveaways are open internationally!
Go here if the form doesn't load.
I wish this post would never end, but you know how it goes. Anyway, I seriously am so happy that I could finally feature these gorgeous authors and their incredible characters on our blog. *happy dances* An infinite THANK YOU to Krista, Becca, Daisy and my boy Ryke for taking the time out to stop by our tiny blog. I love you guys! And thank you, readers, for stopping by!