Summary-
SOMETIMES YOU CAN GO HOME AGAIN…
After an overseas mission goes wrong, Army Special Forces officer Jacob Kincaid knows where he must go to make things right: back home to the tiny town of Cedar Ridge, Colorado. All he needs to scrub away his painful past is fresh mountain air, a lakeside cabin, and quiet solitude. But what he discovers is a gorgeous woman living on a boat at his dock.
Sophie Marren has nowhere else to go. She's broke, intermittently seasick, and fighting a serious attraction to the brooding, dishy, I'm-too-sexy-for-myself guy who's now claiming her dock. Something about Jacob's dark intensity makes her want to tease—and tempt—him beyond measure. Neither one wants to give any ground . . . until they realize the only true home they have is with each other.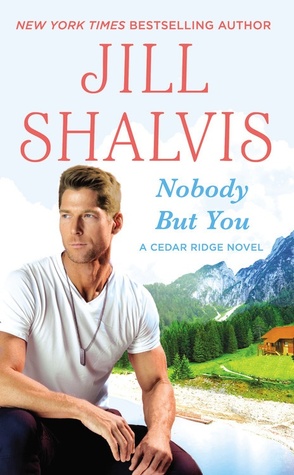 Release date: March 29th, 2016
Published by: Grand Central Publishing
Page numbers: 368
Review-
It is no secret that I love all Jill Shalvis books. Her books are like comfort reads for me. They always manage to leave me feeling all warm and gooey inside. After her last book in the Cedar Ridge series I was quite excited to get to Jacob's book in Nobody But You. Unfortunately, I didn't enjoy Jacob's book as much as I thought I would. It wasn't bad by any means, it just wasn't my favourite of the lot.
Jacob is returning to Cedar Ridge after a long time. He has things to fix with his family and he has missed them. Now only if he could get himself to express it. I liked Jacob. There was nothing really wrong with him. But there was nothing really special about him either. I wanted him to open his eyes and see how much the people around him cared for him.
Then we have Sophie. Sophie is supposed to be a fierce and fiesty heroine with her vulnerable side. She's lost everything because of her cheating husband, she's broke and she's living on a boat. She wants to make the right decisions for herself now and Jacob seems all kinds of wrong and temporary. I liked Sophie but I never really connected with her.
Sophie and Jacob did have chemistry but there was something missing between them. I can't put my finger on it but I didn't feel like cheering their romance on like I did for Hudson and Bailey. I also feel like I sorta missed out on the entire family bonding time which we got in the last book. Yes, there were things Jacob and Hudson had to work through but we didn't get enough time with the entire Kincaid clan.
The one thing in the book that disappointed me the most though was the lacklustre glimpse we got of Kennedy and Mitch's story. I was expecting a full length book for them, or at least a novella but we got a very incomplete and unsatisfactory ending for them. So while this was not my favourite Jill Shalvis book, it was okay. I would only suggest you try out some other books of hers for the first time.
*Note: A copy of this book was provided by the publishers via Netgalley in exchange for an honest review. We thank them.