Summary-
New York Times and USA Today bestselling author Katee Robert continues her smoking-hot series about the O'Malleys—wealthy, powerful, and full of scandalous family secrets.
Carrigan O'Malley has always known her arranged marriage would be more about power and prestige than passion. But after one taste of the hard-bodied, whiskey-voiced James Halloran, she's ruined for anyone else. Too bad James and his family are enemy number 1.
Hallorans vs. O'Malleys—that's how it's always been. James should be thinking more about how to expand his family's empire instead of how silky Carrigan's skin is against his and how he can next get her into his bed. Those are dangerous thoughts. But not nearly as dangerous as he'll be if he can't get what he wants: Carrigan by his side for the rest of their lives.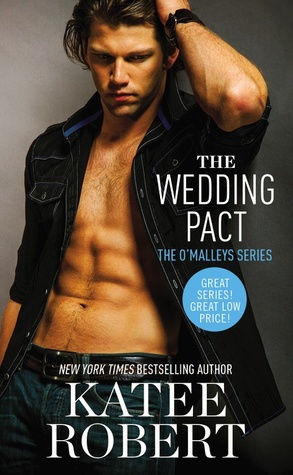 Release date: April 26th, 2016
Published by: Forever Publishing
Page numbers: 352
Review-
The Wedding Pact is the second book in the O'Malley series by Katee Roberts. The first book in the series, The Marriage Contract was actually a book I found to be just about okay. But I was really looking forward to The Wedding Pact which is Carrigan and James' story as the sparks were flying between them since the last book itself.
To give you just a bit of a background, Carrigan and James come from two opposing families who run the family business not always by legal means in Boston. They know they can never be together yet it is only when they are together that they feel safe. They can always just be themselves, away from the family pressure and the harsh reality for sometime.
I liked Carrigan, our heroine. She has always been a strong character with a vulnerable side. She wants to show her father that she can help him out so much but he only sees her as a object to expand the business. I loved how strong willed Carrigan was and she always tried to do the right thing by her family. I loved the relationship she shared with her siblings as well.
James was actually a really perfect hero. He didn't have any faults that I could make out. He felt guilty for the sins his family had committed and for the things he himself had to do to run the business. His only selfish need was for Carrigan and even though he knows they can't be together he doesn't want to let her go. All in all I loved James.
The chemistry between James and Carrigan was amazing and I was always rooting for them to be together. I also enjoyed how we get to see the start of Cillian's story which is next. I enjoyed meeting the rest of the O'Malley family and I sincerely hope that each and every single one of them gets a happy ending because they deserve it. If you enjoy forbidden romances of any kind you should give The Wedding Pact a try.
*Note: A copy of this book was provided by the publishers via Netgalley in exchange for an honest review. We thank them.