Summary-
A story about a young mother's fight to protect her children from the dangerous world of Hollywood…
Faye Martin never expected her husband to abandon her and their three children or that she'd have to struggle every day to make ends meet. So when her four-year-old daughter is discovered through a YouTube video and offered a starring role on a television series, it seems like her prayers have been answered. But when the reality of their new life settles in, Faye realizes that fame and fortune don't come without a price. In a world where everyone is an actor and every move is scrutinized by millions, it's impossible to know whom to trust, and Faye finds herself utterly alone in her struggle to save her family.
Emotionally riveting and insightful, NO ORDINARY LIFE is an unforgettable novel about the preciousness of childhood and the difficult choices a mother needs to make in order to protect this fragile time in her children's lives.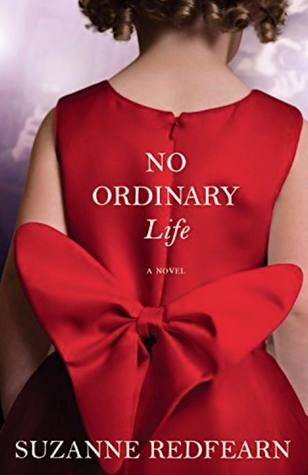 EXCERPT-
We've been in LA a month and have settled into a routine, not miserable but a good measure shy of content, a sustainable existence that borders on normal.
My mom and I barely see each other, which is perhaps the reason the precarious peace exists.My four shifts at Natrij keep me out until after the rest of the house is asleep, and my mom works the other three days, two as a volunteer at the local library, the third at Star Gazer, a weekly tabloid devoted to stalking celebrities, snapping photos of them, then making up stories to go along with those photos.
Prior to her retirement, my mom had been a middle-school English teacher. Now she uses her writing skills and her obsession with the famous to write an astrology column on the stars, divining their futures from the position of the sun and the moon, the exact moment of their birth, and their current location on the globe.It's all very scientific hogwash, but the readers love it, and her column is one of the most popular in the magazine.
School ends in a week, and I'm stressed about the summer routine, or rather the lack of routine.Since we moved here, my mom has homeschooled Tom, sparing him from starting in a new school, so he and Molly have been home, but blessedly Emily's been gone five days a week, sparing us all from her spite.
Emily hates her new school, hates LA, and hates me.And I hate to admit it, but I'm glad she's not around on the days I'm home so I don't have to deal with it.The only saving grace is the soccer team she joined.Other than that, she's miserable and miserable to be around, and when school ends, she's going to be like a caged elephant with a stubbed toe.
#
I'm surprised when I walk into the condo after my shift to find my mom still awake.I look at the clock, 10:15.
"What are you doing up?" I ask, my tongue thick from exhaustion and boredom.The new rhythm of my life—work, cooking, cleaning, laundry—is like elevator music, droning on endlessly without enough differentiation to tell one day from the next.
My mom springs from the couch, her face lit up in a way that scares me.It's the same look she had on her face when I was eleven and she announced we were going on a celebrity cruise where we would mingle with the famous.A total disaster.Even my mom didn't recognize the has-beens that were billed as the stars on the cruise, and my dad and I spent the vacation leaning over the railing green with seasickness.
"You're not going to believe what happened today," she says.
"You won the lottery."
"Better."
"Better than winning the lottery?Tom got up in front of Congress and gave a speech on the injustice of banning peanut butter from school lunches."
"Better."
Nothing could be better than that. "What?" I say, tired of the game.
She holds out a business card. "Look who came by the condo today."
Monique Braxton, Braxton Talent Agency, a Wilshire Boulevard address, a phone number, a website, an email, a Facebook address, a Twitter address.
I shrug.
"Don't you know who that is?Monique Braxton.She's like the biggest talent agent on the planet.She reps anyone who's anyone.Not adults, only kids, but if you're a someone under eighteen, you're a Monique Braxton kid."My mom is so excited that the words spit and sputter like machine-gun fire.
"So?"
"So, look at this."
Grabbing me by the wrist, she pulls me to her laptop on the kitchen table and wiggles the mouse to wake it.The screen opens to a YouTube page.She clicks the gray triangle in the lower left corner and the video starts to play…a video of Molly!
I watch in disbelief.The video is from our day on the promenade.It starts abruptly, the big man strumming the beginning riff of "Johnny B. Goode," his body bobbing with the beat.Behind him, off to the side, Molly does little he-man squats in sync with the big man's big he-man squats.It's very funny to watch.
Then the big man does a hip thrust and a leg kick, and Molly follows with a hilarious mini-hip thrust and leg kick that causes a burst of giggles from the audience.The big man looks confused by the reaction and repeats the move.Molly mimics him again, and again the audience cracks up.
The big man whirls, spots his miniature impersonator, wiggles his finger for her to come toward him, and that's when the throwdown begins.
The video is three minutes and fifty-two seconds long and ends with Molly knocking knuckles with the drummer.In the final seconds is when I see us—Emily, Tom, and me standing in the background, matching grins on our faces.
"So, the thing is," my mom says, "this video's gone viral.Look at the number of hits."
I blink at the number, certain it can't be right.7,867,672.My mom is still talking, but I've stopped listening, my eyes blurring as I continue to stare at the glowing digits.
"Did you hear me?" my mom nearly screeches.
"Huh?"
"The Gap wants Molly for a commercial."
"What?"
"The Gap, you know, the clothes store."
"Yeah, what about them?"
"They want Molly to be in one of their commercials.They hired Monique Braxton to track Molly down, and Monique Braxton did.Not some assistant but her.Monique Braxton, in the flesh.Here.In my condo."
She's so giddy that it's almost possible to imagine her as the little girl she must have been, enthusiastic and animated, perhaps a little like Molly but with a penchant for the stars.I bet she was one of those girls who collected princess paraphernalia and, when she outgrew that, plastered her wall with movie posters.The passion carried into adulthood, a fascination with the famous that borders on obsessive. The hobby is both endearing and a bit disturbing—an inordinate amount of time and energy spent on people she'll never meet.My mom can tell you more about most stars than she can about me.She knows how old they are, where they were born, who they've dated, what movies they've starred in, what tragedies have befallen them, the addictions they have, who they're related to, who supposedly likes them and who loathes them.She subscribes to every tabloid in print, has sat in at least a hundred studio audiences, and regularly signs up for those ridiculous Hollywood tours that drive past celebrity's houses in hopes of catching a glimpse of the rich and fabulous.
"And she absolutely loved Molly," she says. "Of course what's not to love?Did you see that video?"
I glance at Molly snoring on the pull-out couch.
"Can you believe it?Molly.Our Molly."
"How'd she find us?" I ask.
"A private investigator.He asked around on the promenade, and one of the managers at one of the restaurants remembered you and pulled out your application.Simple as that."
Simple as that.My skin prickles, and my stomach knots—millions of strangers watching Molly, private investigators asking around about us, famous talent agents showing up uninvited on our doorstep—it feels like a punch to the solar plexus, a strange mixture of exhilaration and horror, a sickly stew of pride and violation.
"So all you need to do is call her tomorrow to set up an appointment."
My head shakes involuntarily, causing my mom to squinther eyes and say in a much slower voice, "What do you mean, no?"
"Molly's not…we're not…I'm…we're just normal people.We're not…" I gesture to the frozen image of Molly on the screen. "That."
My mom's face literally changes color, growing from pale peach to so crimson that I feel the heat radiating from her skin.Then she blows, "Jesus criminy Christ, Faye.Bad enough you haven't an ounce of gumption to go out and do something with your life, but now this amazing opportunity literally lands in your lap, and you're just going to let it slip right through your fingers.You're just like your father.A pot of gold could have dropped from the sky with his name on it, and he'd have walked around it, complaining it was raining gold when what we really needed was a bit of rain."
About the Author-
Suzanne Redfearn is a summa cum laude graduate from California Polytechnic University and is an architect, in addition to an author. She is also an avid surfer, golfer, skier, and Angels fan. She lives with her husband and children in California.
No Ordinary Life
is her second novel.
Hope you guys check out her book. Happy Wednesday! :)