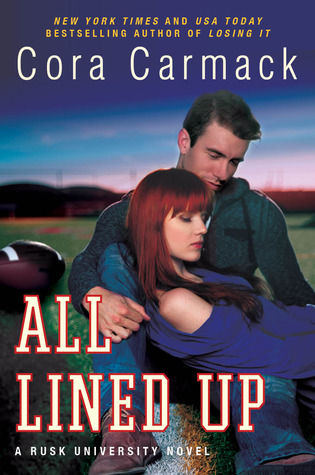 Summary-
In Texas, two things are cherished above all else—football and gossip. My life has always been ruled by both.
Dallas Cole loathes football. That's what happens when you spend your whole childhood coming in second to a sport. College is her time to step out of the bleachers, and put the playing field (and the players) in her past.
But life doesn't always go as planned. As if going to the same college as her football star ex wasn't bad enough, her father, a Texas high school coaching phenom, has decided to make the jump to college ball… as the new head coach at Rusk University. Dallas finds herself in the shadows of her father and football all over again.
Carson McClain is determined to go from second-string quarterback to the starting line-up. He needs the scholarship and the future that football provides. But when a beautiful redhead literally falls into his life, his focus is more than tested. It's obliterated.
Dallas doesn't know Carson is on the team. Carson doesn't know that Dallas is his new coach's daughter.
And neither of them know how to walk away from the attraction they feel.
Review-
I had liked Cora Carmack's Finding It series. All Lined Up looked like a really cute read when I picked it up and I am surprised by how much I ended up loving it. It was much more than just a cute read. All Lined Up is a true new adult book, it was about discovering yourself and figuring things out. It actually passed all my expectations with flying colors.
Dallas hates football. She did love the game at one point of time in her life but then she always felt as though she had to share her father with football. I loved Dallas. She was a really sweet heroine. Having had guys talk to her to come in her father's good books, she was rightly hesitant. I also liked that while she looked like she had everything under control she still had issues and insecurities.
Then we have Carson. God, Carson was one of the most sweetest, genuinely nice heroes I've read till date. Move over bad boys, this nice guy made me swoon. Carson has just moved to Rusk University. He knows the only thing he is good at is football and he cannot afford any distractions. When he meets Dallas there is instant attraction but they both get the shock of their lives when he finds out that she is his Coach's daughter and when she finds out that he is a football player.
I loved how Carson and Dallas meet. There was instant attraction but not insta love. They had chemistry but both were not willing to jump in without thinking. I also loved the fact that they both understood each other the way people in their lives didn't. They made for a really cute couple with all their flaws and faults.
We also get to meet a nice set of characters from Rusk University. I really hope everyone gets a book because I am hooked. Cora Carmack writes new adult perfectly without going over board with the romance. She portrays the mind of a college student authentically. I really loved reading All Lined Up.