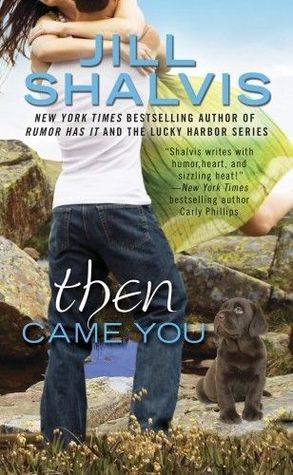 Summary-
From the New York Times bestselling author of Rumor Has Itand the Lucky Harbor series comes the story of a woman whose world is turned upside down by one night's torrid fling...
Veterinary intern Emily can't believe she wound up in the small town of Sunshine, Idaho, instead of the Los Angeles clinic she had always imagined. Now she has to put her plans to move to L.A. on hold for a whole year while she fulfills the obligation of her vet school scholarship.
Then Wyatt, her gorgeous one-night stand from a Reno vet conference, introduces himself as her new boss. And Emily is just as drawn to his seductive looks and quiet strength as she was on that very steamy night. She soon learns that Wyatt isn't just a laid-back doctor, but a delicious alpha male tempting her away from her carefully laid-out plans...
Review-
I think I start almost all of my reviews of any Jill Shalvis' books by saying what a huge fan I am of hers. There is a really good reason behind it, Then Came You, the latest installment in her Animal Magnetism series being one of them. I loved loved loved this book. I didn't want it to end. It was such a sweet and heart warming book!
Emily always lives by a plan. She had plans of going to the LA clinic but instead has ended up in the small town of Sunshine, Idaho. To top it off she finds out that Wyatt, her one one-night stand is going to be her supervisor, for a year. I loved Emily. She was sweet, a horrible liar and she always looked out for her loved ones. I found her denial of what was between Wyatt and her really funny.
Then we have Wyatt. He is what made the book for me. He had this quiet intensity about him. He was awful at expressing himself but I loved his slight goofiness and his all around protectiveness of Emily and his sisters. Wyatt was sexy yet sweet. I thoroughly enjoyed the banter between Emily and Wyatt.
Emily and Wyatt have incredible chemistry which flies right off the pages. On the surface they may look like two people with completely different life goals but they just match. It was like they completed the insufficiencies in each other. I could go on reading about them. They were that good.
I also loved seeing Jade, Dell, Adam and everybody else. Both Emily and Wyatt's sisters made for a hilarious and supportive cast. I'm really curious to see if AJ and Darcy get a story. Jill Shalvis' writing is engaging and funny. I love going in any of her worlds time and again. I thoroughly enjoyed Then Came You.