Summary-
In the middle of the catastrophic 2008 recession, Aditya, a jobless, penniless man meets an attractive stranger in a bar, little does he know that his life will change forever…..
When Radhika, a young, rich widow, marries off her stepdaughter, little does she know that the freedom that she has yearned for is not exactly how she had envisioned it…..
They say Homing Pigeons always come back to their mate, no matter where you leave them on the face of this earth. Homing Pigeons is the story of love between these two unsuspecting characters as it is of lust, greed, separations, prejudices and crumbling spines.
The Homing Pigeons..read along has flown by really quickly and we thoroughly enjoyed ourselves along with our co hosts Ankita at Booklok Coffee and Nimi at The Readers Cosmos. The discussion posts have been great and quite a few in depth questions were asked. The Homing Pigeons..is one of the most unique and amazing book I've read by an Indian author. Sarika and I still pop up into random discussions relating to Aditya and Radhika's actions and decisions. This book is going to stay with us for a long time :)
This is the wrap up post of the read along. If you missed any of our previous posts you can go find them at the links below-
Now, onto our questions. They're really simple. So go forth and answer away!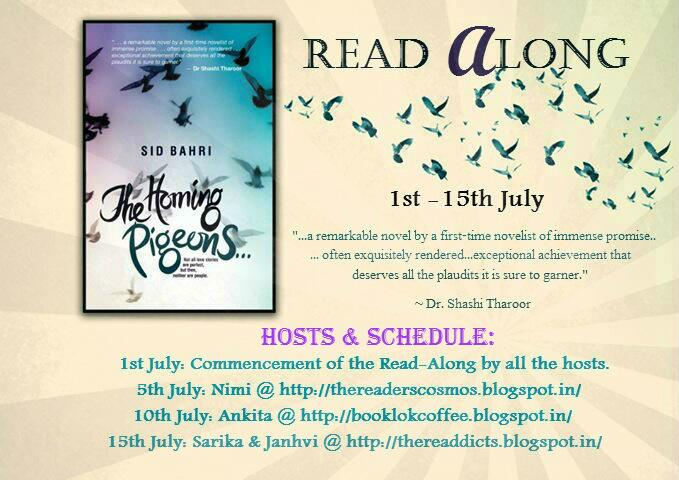 Q1 Did you enjoy reading The Homing Pigeons..? Did it meet your expectations?
Janhvi:
I really enjoyed read The Homing Pigeons. It actually surpassed my expectations as I;m a little wary of reading Indian authors at times. The book was superb and it will definitely stay with me for a long time. I REALLY hope and wish there is a second book. I want to know what happens next with Aditya and Radhika.
Sarika:
I absolutely enjoyed the book. I've said it before and I'm saying it again, it is unlike any Indian contemporary I've read and I mean that in the best way possible. It's one of those books where everything is just right- the cover, the title, the summary- it's all simply beautiful. I didn't really know what I expected from the book but it surpassed all my expectations and has made it to the list of one of the best Indian novels ever.
Q2 In the book Adiya feels parental pressure which leads him to make life changing decisions. What do you think of it?
Janhvi:
I totally got how Aditya could feel pressurized by his parents. His battle between the brain and the heart was clear. But sometimes, you try to listen to logic and that's what he did. Though I could see that he regretted it, it was too little too late.
Sarika:
In my opinion, it's absolutely justified. We live in a country where family is given immense importance and no matter what you do, family counts, it comes first and it is who and what we are.
Q3 What did you think of Radhika's decision in her second marriage? Is revenge really satisfying?
Janhvi:
Revenge is a dish best served cold, as they say. Radhika was hurt by Aditya's actions and behavior. I could see that she was impulsive and her insecurities and abandonment issues were gnawing at her. I felt sad but her actions were totally justified. I got Radhika.
Sarika:
This was actually pointed out to me by Janhvi and I think what Radhika did was not only right, but at that time, also very essential. Her actions, like Aditya's, are truly justified.
Q4 Did you like the way The Homing Pigeons ended? Do you want a sequel?
Janhvi:
I am total happily ever after girl so the ending was a bit abrupt for me. It was left slightly open ended and I would have loved to see some real interaction between Aditya and Radhika. HELL YES, I want a sequel!
Sarika:
I was more than happy to see Radhika and Aditya together by the end of it all although I wish there were more details. There is a sequel and I really hope we get to see where our two beautiful and broken protagonists go from where they left.
Q5 Did you like Sid Bahri's writing?
Janhvi:
Actually, I loved Sid's writing style. It was easy and precise. The book was written beautifully, the phrases aptly used. You could connect with Aditya and Radhika and I loved the dual point of views as we got glimpses into both their heads.
Sarika:
Liked is an understatement, I LOVED it and I loved it a lot. It's beautiful beautiful beautiful and I have nothing but heartfelt admiration and respect for the author.
Update: ASK THE AUTHOR!
As promised in the intro post, you can ask author
Sid Bahri
any questions and he'll gladly answer them. Ask your questions in the comments below and we'll make sure Sid gets back to you or simply
tweet @Sid_Bahri
or write on his Facebook timeline.
I really hope you enjoyed following our discussions as much as I did. If you haven't read The Homing Pigeons... yet go grab your copy asap! Happy reading everybody! :)