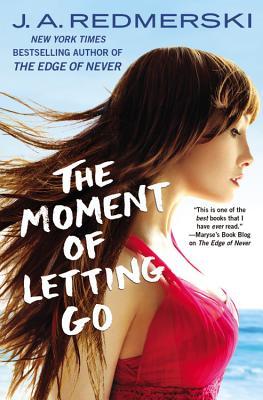 You can follow the rules or you can follow your heart...THE MOMENT OF LETTING GO

Sienna Murphy never does anything without a plan. And so far her plans have been working. Right after college, she got a prestigious job and gained the stability she'd always craved-until work takes her to the sun-drenched shores of Oahu and places her in the path of sexy surfer Luke Everett. For the first time, she lets her heart take control. Drawn to his carefree charm, she makes a spontaneous and very un-Sienna-like decision to drop everything and stay in Hawaii for two more weeks.

Luke lives fast and wild. When he meets Sienna, he's convinced that some no-strings-attached fun is just what she needs. As their nights quickly turn from playful to passionate, Luke can't deny the deep connection he feels. But there's a reason Luke doesn't do long-term. He can't promise Sienna forever, when the enormity of his past has
shown him just how fragile the future can be . . .
Review-
I decided to read J.A.Redmerski's The Moment of Letting Go solely based on the fact that it had a pretty cover and the summary sounded really intriguing. I enjoy reading new adult contemporary romances but The Moment of Letting Go was so much more than just another romance. This book totally blew me away and I thoroughly enjoyed it.
Let's start with Sienna. Sienna has seen her parents struggle financially when she was growing up so now she never does anything without a plan. She has a well paying job though it doesn't give her much time to pursue her passion of photography. But everything changes when she meets Luke in Hawaii. I really liked Sienna. She was such a sweet girl with her head on her shoulders. I loved her personality and she was very easy to relate to.
Then we have Luke. Luke likes living on the edge. When we first meet him you think he is just another guy but there is SO much more depth and history to him. Luke likes doing extreme sports for a reason and he is still dealing with the loss of a loved one. He finds peace when he is with Sienna and the attraction between them is easy to see. I loved the fact that Luke was a good guy. He genuinely cared about Sienna and her feelings.
Sienna and Luke have chemistry from the instant they meet. You'd think this book would go like a no strings attached relationship but I was happy to be proved wrong. It kinda goes the slow burn romance way but the friendship and attraction is there ever present. I loved how Luke helped Sienna overcome her fears. Sienna gave Luke the peace he was searching for.
They both overcame a lot of their issues by the end of the book.
I also enjoyed Luke and Sienna's friends. All the side characters were fully fleshed out and had an important role to play. This book sends out such a great messgae. We sometimes get so wrapped up in achieving the material things in life that we forget to live freely. This book just hit all the right notes for me and I would highly recommend it to everybody.

*Note: A copy of this book was provided via Netgalley by the publisher in exchange for an honest review. We thank them.
Buy the book!
About the author:
J. A. Redmerski, New York Times, USA Today, and Wall Street Journal bestselling author, lives in North Little Rock, Arkansas with her three children, two cats and a Maltese. She is a lover of television and books that push boundaries.
Connect with the author!
Giveaway:
a Rafflecopter giveaway
Share link- https://www.rafflecopter.com/rafl/display/26635ce2238/
Thank you so much guys and happy reading! :)