Goodreads Summary:
A groundbreaking story about a teenage girl who discovers she was born intersex... and what happens when her secret is revealed to the entire school. Incredibly compelling and sensitively told, None of the Above is a thought-provoking novel that explores what it means to be a boy, a girl, or something in between.
What if everything you knew about yourself changed in an instant?
When Kristin Lattimer is voted homecoming queen, it seems like another piece of her ideal life has fallen into place. She's a champion hurdler with a full scholarship to college and she's madly in love with her boyfriend. In fact, she's decided that she's ready to take things to the next level with him.
But Kristin's first time isn't the perfect moment she's planned—something is very wrong. A visit to the doctor reveals the truth: Kristin is intersex, which means that though she outwardly looks like a girl, she has male chromosomes, not to mention boy "parts."
Dealing with her body is difficult enough, but when her diagnosis is leaked to the whole school, Kristin's entire identity is thrown into question. As her world unravels, can she come to terms with her new self?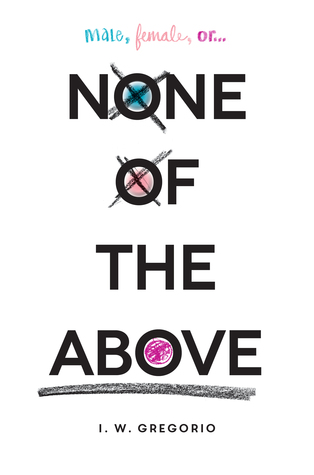 REVIEW:


None of the Above sounded very interesting to me when I first came across the book. A devotee of stories with LGBT characters, I started reading the book without much expectation, and I was pleasantly surprised. None of the Above turned out to be a really good and fresh story that I totally devoured. What struck me as most wonderful about None of the Above was the importance it gave- and in tune, the awareness it created- about gender issues. It created a deeper understanding about the problem that essentially leads to someone being called intersex or hermaphrodrite or transgender.
None of the Above is the story of Kristin, who lost her beautiful mother to cervical cancer at the age of ten, and lives with her strong and sweetheart father. She is a runner and for her, running is breathing. After having a severely painful experience the first time she and her boyfriend get intimate, she books an appointment with a gynaecologist. What is revealed to Kristin there changes her life forever.
Krissy was a well developed protagonist from whose point of view the entire book goes in first person. Her journey to discover her identity and find herself was such a pleasant ride, filled with emotion. From a popular, fun-loving and sweet girl, she goes on to become the subject of ridicule at her high school, simply because no societal definition of normal is good enough to describe her. What was best about Kristin that author I. W. Gregorio absolutely nailed (along with her fantastic writing) was some fabulous character development.
The secondary characters in None of the Above were just as beautifully portrayed as Krissy. Each person had flaws which only made them realistic. Every one of them has an important role to play in making the story more about family, friendship and love which actually help one come to terms with oneself in any case, and that was an outstanding feature about this book. A surprisingly good read, I really enjoyed this book that doesn't just recount a story, but leaves one thinking about the issue that gender is made to be.
RATING: